3 Benefits of Buying a Fixer Upper on the Big Island
Posted by Annette Mejia on Monday, May 29, 2023 at 9:19:58 AM
By Annette Mejia / May 29, 2023
Comment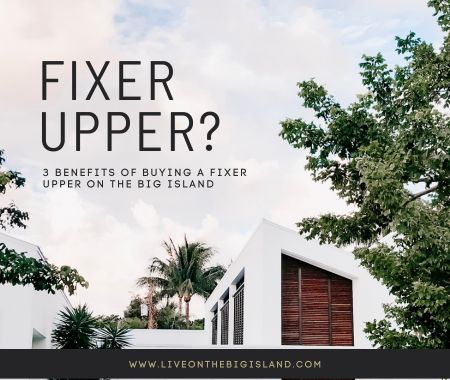 After deciding to look for homes for sale on the Big Island, it is time to decide what type of home you want to buy. For many people, a fixer upper is an appealing invesmtent. If you are on the fence about buying a house on the Big Island that needs some TLC, here are 3 benefits of buying a fixer upper in Hawaii to keep in mind.
For help finding fixer uppers for sale on the Big Island, contact us any time. We could love to help you find your dream home here on the island.
1. Make the home your own
When you buy a fixer upper, you can renovate it to uniquely suit your style. A turn key property, while fresh and new, is unlikely to have been done in all the finishes and features you would have chosen.
A fixer upper that you design yourself can feature all of the design elements that makes sense for your personal aesthetic and lifestyle. You can determine whether durability, budget, or aesthetic is most important to you with any given design choice and create a home that is the perfect fit for your needs and seamlessly works with your belongings, household size, and lifestyle.
You can also design the home to showcase your favorite parts of the property. Living in Hawaii is just as much about the location as it is the actual home. When you buy a fixer upper, take full advantage of your location by choosing larger windows to take in your favorite view or designing a comfortable lanai where you can entertain all year long.
2. Save money
The most obvious benefit of buying a fixer upper is saving money. This is the primary reason most people consider it. Buying a fixer upper saves you money in more ways than just featuring a lower purchase price, though. It also:
Allows you to determine your renovation budget and timeline, saving up to renovate over time and searching for sales and promotions to pinch pennies wherever possible.
Presents the opportunity to invest with your "sweat equity" instead of paying for the labor to update the home.
3. Build equity faster
One of the primary benefits of homeownership overall is building equity that can increase your net worth and create financial opportunities for you. The more equity you have in your home, the more flexibility you have to leverage that equity toward other financial goals.
When you buy a fixer upper, you will build that equity much faster. In addition to the passive increase in equity that is created by a healthy real estate market, every improvement you make to the home increases its value, and therefore your home equity.
To maximize this benefit, keep resale and appraisal value in mind as you design your home. Choose renovations with a high ROI, like updated kitchen and bathrooms or new energy efficient windows. This way you can enjoy your home more while quickly increasing its value.
To learn more about finding the right property for you in Hawaii, contact us any time.