5 Reasons to Choose the Big Island for Luxury Real Estate
Posted by Annette Mejia on Saturday, February 11, 2023 at 12:20:29 PM
By Annette Mejia / February 11, 2023
Comment
Are you looking for the right destination for your next luxury real estate purchase? The Hawaiian Islands are an obvious choice, and each island presents its own features and personality that may lead you to choose it.
The Big Island has become an ideal location for luxury real estate for a variety of reasons. If you want to learn more about finding luxury real estate for sale on the Big Island, contact us any time.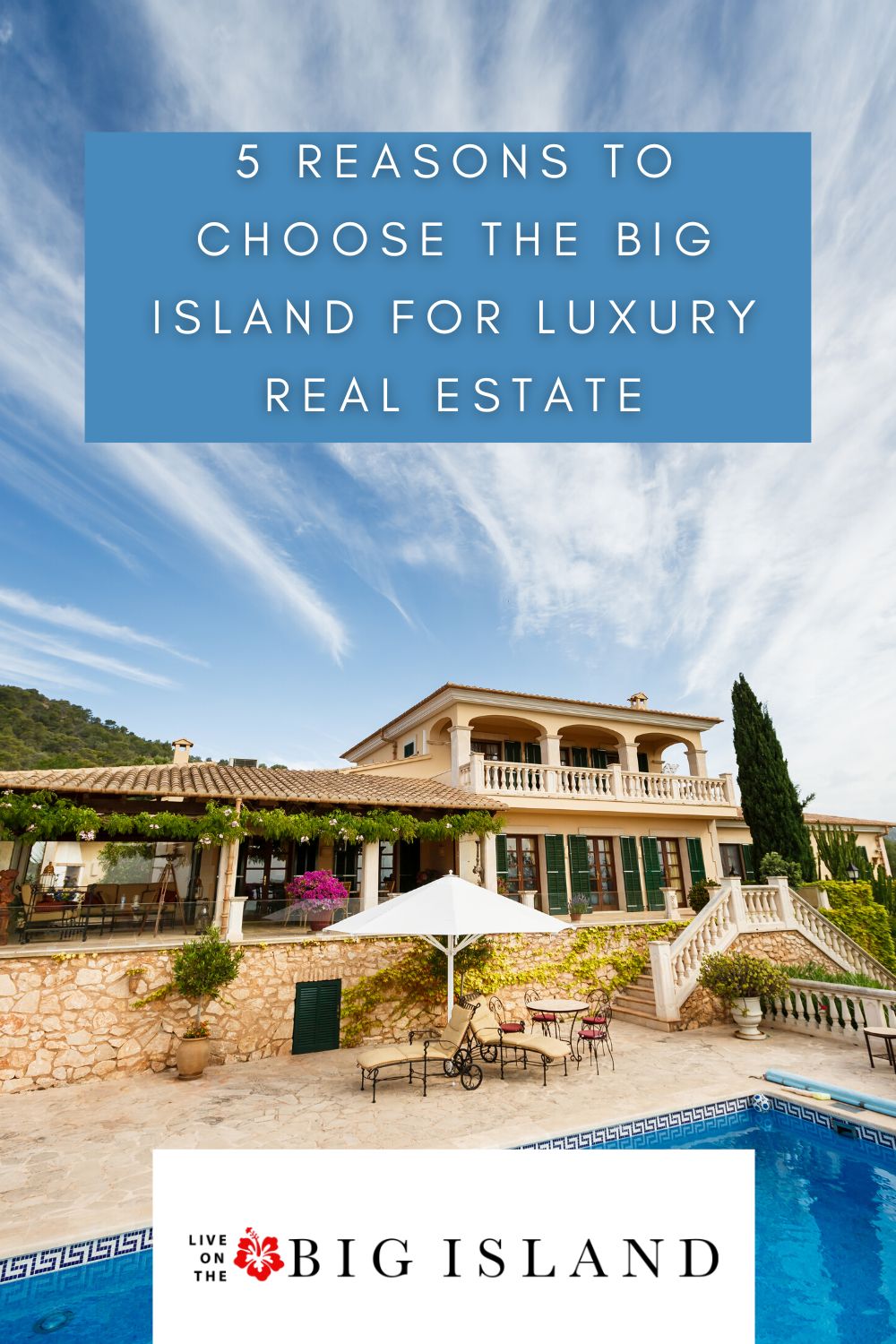 Here are 5 reasons you should consider the Big Island for your luxury real estate destination.
1. Natural Beauty
It goes without saying that Hawaii is one of the most beautiful places on earth. All the islands feature this natural beauty, but the Big Island showcases it in a unique way, with many untouched natural areas that have not been tainted by any development.
With four active volcanoes on the island, lush rainforests, black sand beaches, and more, you can find luxury real estate that is surrounded by protected natural areas that will not fall prey to developers.
2. Vacation-Like Amenities
The Big Island offers an ideal combination of a natural island setting and luxury vacation amenities. With diverse communities making up different parts of the island, you will find high end shopping, restaurants, golf courses, spas, and more just a short drive from your peaceful island oasis.
3. Diverse Real Estate Choices
Finding luxury real estate on the Big Island is exciting because of the diverse choices available. Choose from oceanfront villas or sprawling mountain estates, selecting your favorite unique setting on the island. If you can't find your dream house, the Big Island is the perfect place to build a new luxury home, finding a property that showcases all your favorite parts of island life and taking full advantage of it by designing a custom home.
4. Tight Knit Community
While the Big Island does draw tourism, it offers a small town atmosphere and a culture known for being friendly and welcoming. If you are looking for a luxury island home where you can connect as a part of a tight knit community, you will love the Big Island.
5. Outdoor Recreation
What does your ideal lifestyle include? If any outdoor recreation makes the list, the Big Island is an ideal choice. Surfing, hiking, kayaking, and exploring the island are available all year round, making an active lifestyle accessible to all Big Island residents. The Big Island is home to 8 microclimates, so that you can experience a diverse array of temperatures and settings depending on the island location you choose to explore that day.
Living on the Big Island means enjoying an entirely unique lifestyle that perfectly pairs with your luxury real estate plans. Find your dream home or build a custom one, and enjoy living in a friendly and welcoming culture, near world class vacation amenities, set in a peaceful atmosphere of natural beauty, where you can enjoy outdoor adventure and recreation all year long. What's not to love?
Ready to begin the search for your ideal Big Island property? Contact us any time.