9 TIPS TO PREPARING YOUR HAWAIIAN HOME FOR SALE
Posted by Annette Mejia on Wednesday, November 27, 2019 at 7:41 PM
By Annette Mejia / November 27, 2019
Comment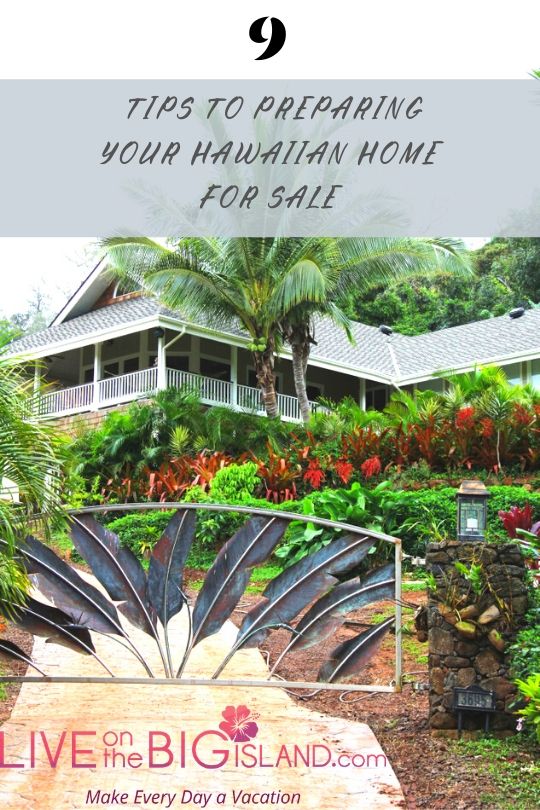 Preparing a Hawaiian home for sale on the market is not that unlike the mainland, even though we may have different buyers so setting up your home and preparing it for the market will have a few different tricks in order to impress Hawaiian buyers. If you're planning on listing your home this year here are 9 Tips to Preparing Your Hawaiian Home for Sale:
#1. Remove all personal items.
Now, this is not to say removing items that are specifically Hawaiian, because most buyers are looking for that in a Hawaiian property. But, you will want to remove personal photos, memorabilia, collections, and really anything that distracts from the home, the land, or the view itself. Remember, you are moving anyway so you'll need to pack these items up and now is the best time to do it.
#2. Focus on the landscaping.
An unkept landscape can cause buyers to believe you haven't taken care of anything else on the property and will definitely discourage buyers from making an offer. Start now by adding new plants, using colorful flowers and native bushes and shrubs, trimming the lawn, and making it look like the most beautiful Hawaiian oasis ever. Not only will you impress the neighbors, but your home will be a magnet for potential buyers.
#3. Make any necessary repairs.
Living in a home for years can make us blind to the little idiosyncrasies and necessary repairs but now is the time to take care of all of those things you've procrastinated on. If you are unsure of what your home needs, have a trusted friend or even your real estate agent go through the house with a checklist making note of little items such as holes in screens, leaky faucets, squeaky doors, missing door jams, and any little detail that will stick out like a sore thumb to buyers.
More: When is the Best Time to Sell a Home in Hawaii?
#4. Clean everything, including things you've probably never cleaned.
You'll need to focus on cleaning the home unlike any cleaning job you've ever completed. This includes cleaning out the refrigerator and appliances, cupboards and drawers, baseboards, underneath the couch, window and door tracks, blinds and ceiling fans. These are items you probably don't clean on a regular basis but now, buyers will be very picky so it's important to clean every little nook and cranny of your house.
#5. Impress with linens.
While fabric alone won't sell your home, fluffy linens, towels, curtains, and bedding can make a home more calming and comfortable. Fresh white bathroom linens, hand towels, bath mats, fluffy bedding, throw blankets and pillows all add to the charm and proper staging of a home.
#6. Organize those places you don't see regularly.
Take at least half of the items out of every storage compartment in the home including drawers, cupboards, pantries, and closets. You'll need to pack these items up anyway so now is the time to show buyers there's plenty of room. Those buyers will get snoopy so it's important to have every piece of the puzzle organized and clean.
#7. Upgrade or repaint when necessary.
Not every home will need to major upgrades, updating, or repainting, but if the home needs it, now is the time. If you're unsure, ask your real estate agent about what else is on the market and how your home can compete. If your home will get sold by adding in new cabinetry or a countertop, now is the time to do it.
#8. Pre-Inspection.
While not required, having a pre-inspection done ahead of time will take the guesswork out of what buyers may find during their home inspection. You can get a jump on fixing things and really understand how a buyer would view your home.
Related: 5 Things That Can Ruin a Home Inspection
#9. Secure Valuables.
Buyer naturally will tour your home and it's just best to keep personal valuables and jewelry stored securing away. Don't make it obvious and keep items either with you or in a safe if possible. Keep that safe in a closet or tucked away so even it's harder to find.
For more information on how to market your particular Hawaiian home, give me a call. Every home is unique and each home has its own features that will impress certain buyers so it's important to highlight those features.