Best Restaurants on the Big Island
Posted by Annette Mejia on Wednesday, November 15, 2023 at 6:46 AM
By Annette Mejia / November 15, 2023
Comment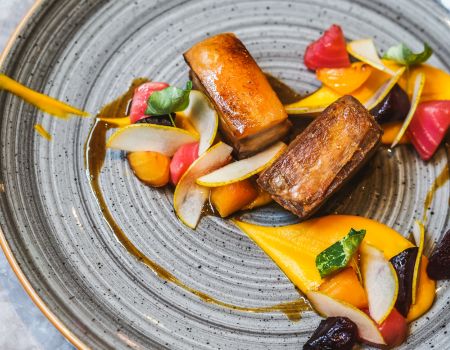 The Big Island of Hawaii is not only renowned for its breathtaking landscapes and diverse ecosystems but also for its vibrant culinary scene that reflects the rich cultural tapestry of the island. From fresh seafood to locally sourced ingredients, the restaurants on the Big Island offer a spectrum of flavors that captivate the taste buds of locals and visitors alike. Come with us on a gastronomic journey to discover some of the best restaurants on the Big Island.
Merriman's
Located in Waimea, Merriman's is a culinary gem that celebrates the bounty of the Big Island. Chef Peter Merriman, a pioneer of Hawaii Regional Cuisine, emphasizes locally sourced, organic ingredients. The menu features dishes like the Opakapaka (Hawaiian pink snapper) and the renowned Merriman's Original Wok Charred Ahi.
Holuakoa Gardens and

Cafe

Tucked away in the artistic town of Holualoa, Holuakoa Gardens and Café offers a unique dining experience. Set in a historic coffee mill, the restaurant serves dishes crafted with fresh, organic ingredients, many of which are sourced from local farmers. The menu changes frequently to showcase seasonal delights.
Huggo's
Nestled along the Kailua-Kona waterfront, Huggo's has been a beloved dining destination for over five decades. With its open-air setting and panoramic views of the ocean, Huggo's provides an ideal backdrop for enjoying their signature dishes like the Hawaiian-Style Ahi Poke and the Kona Coffee-Rubbed Pork Chop.
Roy's Waikoloa Bar & Grill
Founded by renowned chef Roy Yamaguchi, Roy's has become synonymous with innovative Hawaiian fusion cuisine. The Waikoloa Bar & Grill, situated in the Waikoloa Beach Resort, offers a menu that artfully blends Hawaiian flavors with global influences. Indulge in dishes like the Macadamia Nut Crusted Mahi Mahi or the Misoyaki Butterfish.
Brown's Beach House
Set within the luxurious Fairmont Orchid resort, Brown's Beach House is an upscale dining destination on the Kohala Coast. The restaurant boasts an oceanfront setting with stunning sunset views. The menu features Pacific Rim-inspired dishes, with a focus on fresh seafood and locally sourced produce.
Moon and Turtle
Hilo, on the eastern side of the Big Island, is home to Moon and Turtle, a culinary gem that has gained acclaim for its creative and flavorful dishes. The menu is a fusion of Asian, Hawaiian, and global influences, featuring items like the Ahi Katsu and the Miso Butterfish.
Ulu Ocean Grill and Sushi Lounge
Located within the Four Seasons Resort Hualalai, Ulu Ocean Grill and Sushi Lounge is a culinary haven that combines exquisite oceanfront dining with a commitment to sustainability. The menu features locally sourced ingredients and fresh catches, with a sushi bar offering a delightful array of creations.
Da Poke Shack
For an authentic taste of Hawaiian poke, Da Poke Shack in Kailua-Kona is a must-visit. This unassuming spot gained fame for its fresh and flavorful poke bowls, featuring a variety of marinated seafood options. Locals and visitors alike flock to Da Poke Shack for a casual yet delicious dining experience.
Canoe House
Situated within the Mauna Lani Resort, CanoeHouse is an elegant restaurant that showcases the culinary artistry of Chef Matt Raso. The menu emphasizes locally sourced ingredients, with dishes like the Macadamia Nut-Crusted Colorado Lamb and the Island Fish en Papillote.
The culinary landscape of the Big Island of Hawaii is a symphony of flavors, blending traditional Hawaiian ingredients with global influences. From upscale oceanfront dining to casual beachside eateries, the best restaurants on the Big Island offer a diverse array of culinary experiences. Living on the Big Island means having a tropical paradise outside your front door without having to sacrifice urban perks like a great culinary scene. If you want to learn more about homes for sale on the Big Island, contact us any time.