DINING ON THE BIG ISLAND OF HAWAII
Posted by Annette Mejia on Tuesday, July 10, 2018 at 12:40 PM
By Annette Mejia / July 10, 2018
Comment
Dining on the Big Island
Enjoy the Many Fine Restaurants on the Big Island
There are many choices for fine restaurants on the Big Island from native Hawaiian to international and continental cuisine all offering mouth-watering appetizers and entrees served to perfection. Enjoy native favorites like sizzling beef, and chicken and poultry platters or make it simple with a good, juicy cheeseburger – local restaurants and eateries are sure to dazzle your taste buds with culinary delights.
In fact, one of the draws of living on the Big Island is the many lavish and elegant restaurants and seaside cafes. Here are some of the top restaurants the Big Island offers for all residents and visitors.
The Kohala Village
The Kohala Village is a popular attraction for the entire family and is home to The Hub Restaurant, a cozy Inn and a vibrant community center. From educational arts to workshops, you and yours are guaranteed a great time at the Village. The Hub Restaurant features a wide assortment of scrumptious and delicious foods – ranging from crispy Mochiko chicken to tangy, pineapple smoothies.
You must also try the Mochi doughnuts, which are truly flavorsome and delicious with every bite. There are also sweet potato chips and Ulu fries as great side items, as well as appetizers for the entire family. Whether for corporate lunches or family brunches, the Kohala Village is a must on your culinary itinerary.
Sushi Rock
Conveniently located off of the Akoni Pule Highway, this small and trendy restaurant is situated in the Hawi Hale Building. A popular restaurant with the locals and visitors, it attracts loyal customers from all over Hawaii and the world. In fact, this restaurant continues to receive stellar industry ratings and customer reviews from it's many patrons.
Sushi Rock is well known for its tantalizing and scrumptious Sushi platters. With true culinary creativity, each dish is carefully crafted to make every bite a memorable experience. From the Purple Passion with ahi poke to the wasabi-infused purple sweet potato, you are guaranteed the most delicious seafood experience of a lifetime!
Sushi Rock also features sizzling steak and chicken platters, along with its signature Bombay Sunset with ahi poke, currey, slaw apple and more. With a side of sashimi or seasoned tenderloins, this is the place to be for great and tasty food and you do not want to miss the sweet potato cheesecake for dessert as well!
Mi Ranchito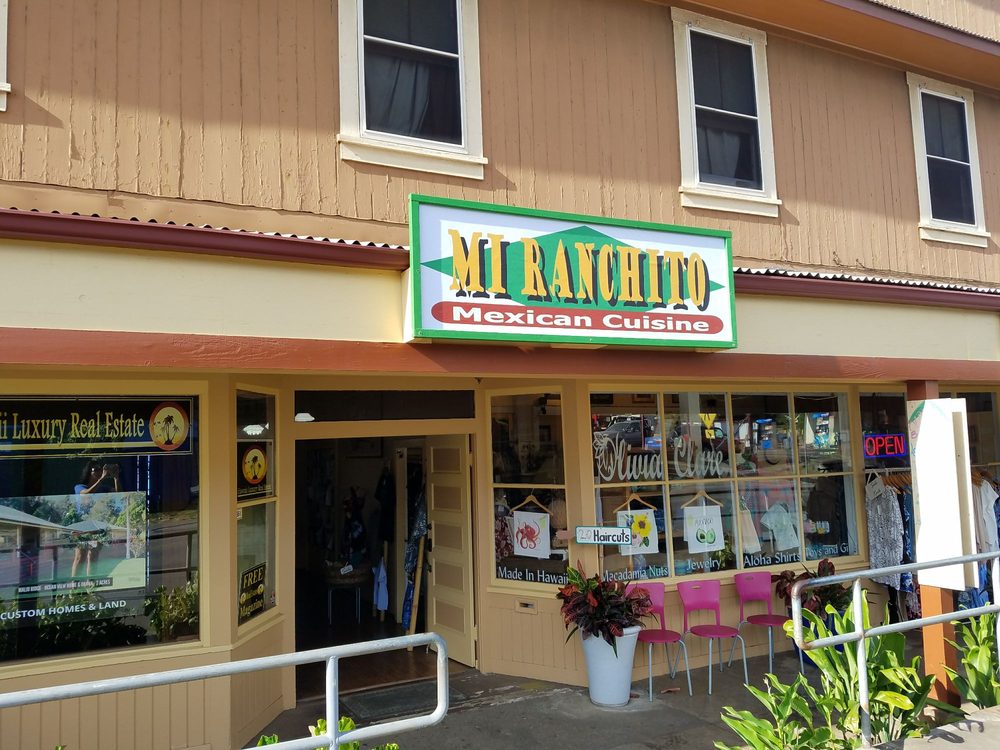 Mi Ranchito is truly your premier Mexican restaurant on the Big Island. This hidden gem is also located of the Akoni Pule Highway in Waimea. Based in the Kohala Trade Center Building, Mi Ranchito is proudly owned and operated by the Oliveros family. In fact, the entire family helps to run the restaurant which is well known for creating innovative dishes.
From delicious hot salsa to shrimp burritos, Mi Ranchito is the place to be for great, authentic Mexican food in Hawaii. They also serve scrumptious handmade tortilla chips, along with traditional tacos, enchiladas, chalupas, gorditas and much more. With festive holiday lights and traditional Mexican decorations, this venue is great for brunch – lunch – dinner. They also offer take-out and delivery services. Be aware that the in-restaurant seating is a bit scant so go early if you are planning to eat in or there could be a wait.
Gill's Lanai
Gill's Lanai is known for its small but cozy décor. Located in Kapaau – just across the street from King Kamehameha Park – this enchanting restaurant is known for its daily fresh fish platters and lobster tacos. Be sure to try the poke and kalua pork quesadillas, along with the full range of fresh juices and ice cold beer and beverages. There are also vegetarian platters and entrees available for the whole family. Come and enjoy this great restaurant – with friendly staff and a casual, relaxed atmosphere.
Sweet Potato Kitchen
The Sweet Potato Kitchen has a warm and friendly staff waiting to meet all your culinary needs. As a haven for "vegan comfort food", the Kitchen is proudly owned and operated by Susan Alexy. With a newly expanded restaurant space, there is now more room for you to enjoy the great meals here always served to perfection.
This includes their signature waffles – served all day long – and Huevos Paniolos. The polenta is a creamy and fluffy delight, along with scrumptious poached eggs. You will love the Cuban-spiced beans and fresh avocado – guaranteed to dazzle your taste buds with every bite. They also offer non-vegan appetizers and dishes available for the omnivore in your life. Sweet Potato Kitchen is located off of Akoni Pule Highway, which is considered "Restaurant Row" by locals and tourists alike.
Kings View Café
Kings View Café is truly a local favorite and are widely celebrated for their awesome – freshly baked pizzas. With a mix of native Hawaiian and Italian décor, this restaurant continues to receive top reviews across the industry. Located in Kapaau and right across the street from the iconic King Kamehameha statue – this venue offers ample parking as is adjacent to the Ackerman Gallery.
Kings View Café features great pesto chicken delights, along with meat-lover pizzas. There are also vegetarian pizzas, as well as Tropical Dream ice cream and cones for dessert. Whether for lunch, dinner or a quick bite – this restaurant will meet all your needs within time and budget.
Minnie's
Last but certainly not least on this list is Minnie's. Owned by Minnie Charmaine Davis, this great restaurant has been serving local diners for over 12 years. You can always expect to receive great service and a warm, friendly smile upon entering. A must have on this menu is the Korean Chicken, which is crispy outside and tender and succulent on the inside. This is topped with delicious Korean sauce, which is simply fantastic! There is also tender roast pork, which will melt in your mouth.
Each entrée comes with two scoops of rice – and either macaroni or tossed salad. You will love these mixed platters, which truly capture the allure and essence of fine dining in Kohala!
One thing the Big Island is not lacking is great food. Food lovers will not be disappointed by the wide range of culinary delights that the Big Island has to offer. If you like to eat out and enjoy trying out new and different restaurants then this is a great list to start your culinary experience on the Big Island.