Find the Perfect Multi-Generational Home on the Big Island
Posted by Annette Mejia on Friday, October 6, 2023 at 12:26:17 PM
By Annette Mejia / October 6, 2023
Comment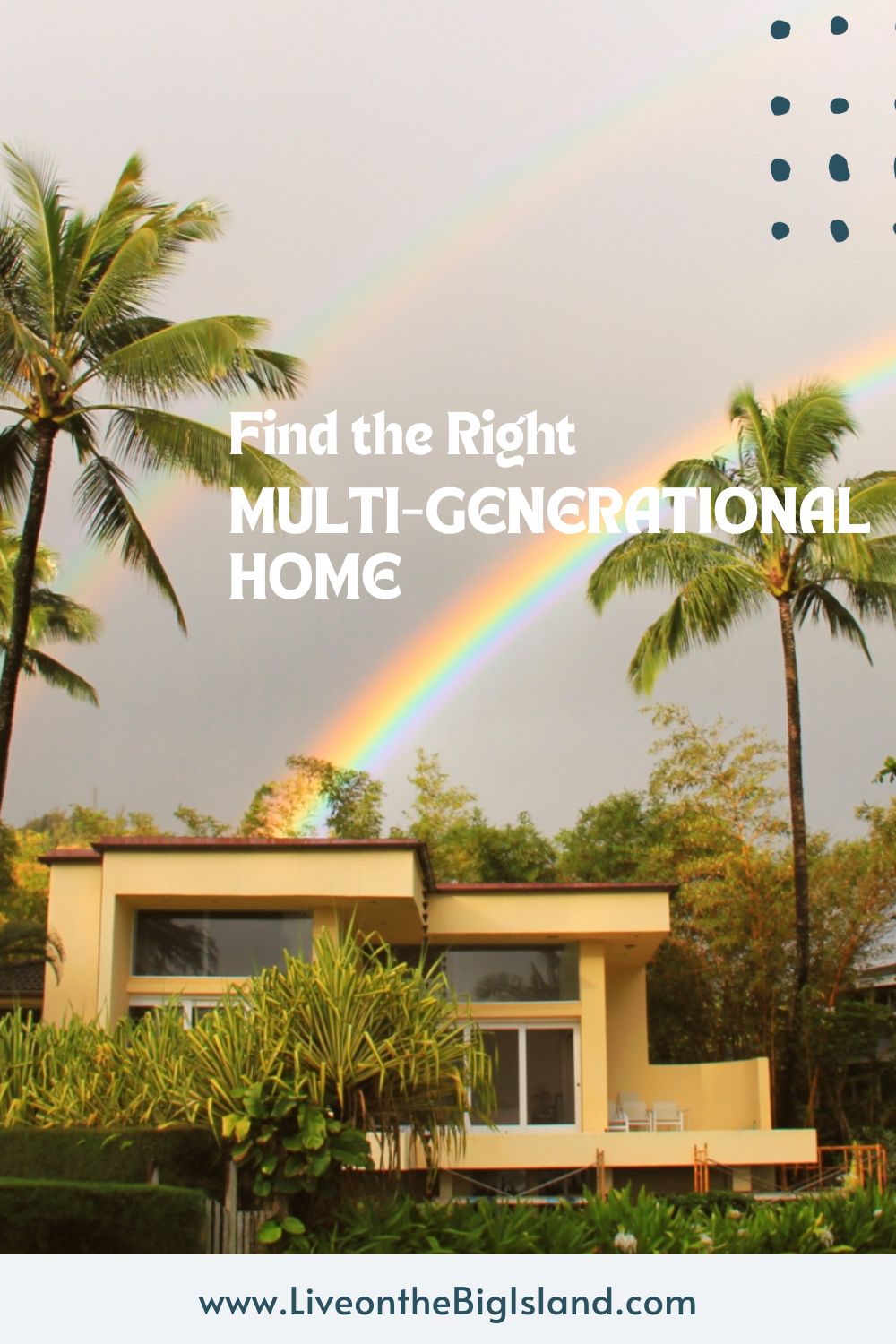 The Big Island of Hawaii offers a captivating blend of natural beauty, diverse landscapes, and a rich cultural heritage. It's no wonder that many families are drawn to the island for multi-generational living, where grandparents, parents, and children can share a home and a unique island lifestyle. A multi-generational home in Hawaii might be right for you. If you're considering finding a multi-generational home on the Big Island, contact us any time, and consider these valuable tips to guide your search.
Identify Your Needs and Priorities
Searching for a multi-generational home will be different from choosing a home for just your own household. Start by defining what your needs and priorities will be for this new house. You can begin by identifying the specific needs and priorities of each generation living in the home. Consider factors like the number of bedrooms and bathrooms, accessibility features, and private spaces for each family unit.
Think about your lifestyle preferences and how they align with the diverse offerings of the Big Island. Do you prefer a coastal location, a rural retreat, or something in between?
Selecting the Right Location
The Big Island features many diverse communities, from mountainous areas to coastal homes to luxury resort communities. Many people do not realize that the Big Island also boasts a range of microclimates, each with its own unique characteristics. Determine the climate and geographic region that suits your family's preferences.
Don't forget to consider proximity to schools, healthcare facilities, shopping centers, and recreational activities to ensure convenience for all family members.
Work with an Expert
Partnering with a knowledgeable local real estate agent is crucial when searching for multi-generational homes on the Big Island. They can help you navigate the island's diverse real estate market and provide insights into specific neighborhoods. We have the expertise you need to guide you to your ideal neighborhood, and the years of experience and connections that will help you find the perfect new home. Contact us any time to learn more about finding the right property for you.
Consider Different Housing Options
Multi-generational homes on the Big Island can take various forms, including single-family homes with separate living areas, duplexes, or custom-built properties designed for multi-generational living.
Stay open-minded as you explore different housing options to find the layout and design that best suits your family's needs.
Decide Which Separate Areas Matter Most
Ideally, a multi-generational home should provide separate living spaces for each family unit to maintain privacy and independence. Many families find that being able to choose how much they are together is the key to enjoying a multi-generational living situation long-term.
Look for homes with features like separate entrances, kitchens, and living areas. Carefully evaluate the layout to ensure it accommodates the needs of elderly family members, such as accessibility and safety features.
Assess the Outdoor Amenities
Living on the Big Island, or anywhere in Hawaii, means being able to enjoy your outdoor living areas and amenities all year round. Consider the outdoor amenities of the property, as they can enhance your family's quality of life. Look for features like a spacious yard, gardens, lanais (covered outdoor areas), or even space for future expansion or additions.
Keep Future Plans in Mind
Think long-term and consider how the multi-generational home can adapt to changing family dynamics. For example, will you need additional bedrooms or an in-law suite in the future? Do you hope to have space for a full time or overnight caregiver if needed?
Planning for these future needs can help you avoid the hassle of relocating or extensive renovations down the line.
Ready to find houses for sale on the Big Island that will be perfect for your multi-generational home? Contact us any time.