Help Our Neighbors in Maui Recover from Devastating Wildfires
Posted by Annette Mejia on Wednesday, August 16, 2023 at 10:56:15 AM
By Annette Mejia / August 16, 2023
Comment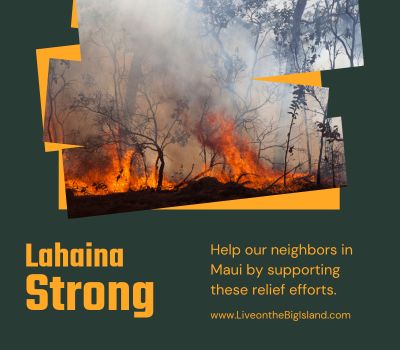 Our hearts are heavy as we continue to learn of the devastation caused by the fires on Maui last week. With hundreds of people still accounted for, and an already significant loss of life as the official death is in the triple digits, we are grieving with our neighbors on the island of Maui.
With so many people having lost everything, Americans across the islands and the mainland are coming together with relief efforts to show support and meet needs in this time of crisis.
Major corporations have donated water, food, and necessary supplies to be shipped to Maui and offer relief. It doesn't just take large companies to help, though. You can be a part of the disaster relief efforts, too.
When we learn about a disaster like this, it helps to know how we can use what we have to make a difference. If you would like to join us in supporting our Maui neighbors, consider donating to one of these valuable relief efforts. Follow the links below to learn more about different disaster relief efforts and how you can be a part of them.
Financial Donations
One of the most efficient ways to support the relief efforts in Maui is to give financially to one of the following organizations.
Maui Strong
Maui Strong is focused on a rapid response and coordinating efforts between local non profits to provide real help fast.
Maui Food Bank
Every dollar Maui Food Bank collects can be transformed into 4 meals for Maui residents affected by the fires.
Maui United Way
Maui United Way seeks to provide direct relief to families in need because of the fires.
Public Schools of Hawaii Foundation
With the new school year just around the corner, Public Schools of Hawaii Foundation is collecting donations to provide necessities to students in school communities throughout West Maui.
Council for Native Hawaiian Advancement
The Council for Native Hawaiian Advancement is fundraising and offering to match donations. Some limitations apply, so check out their website to learn more.
Catholic Charities Hawaii
Catholic Charities Hawaii is networking with other local charities that are boots on the ground meeting immediate needs.
The Salvation Army
The Salvation Army on Maui is providing food and other emergency resources to fire evacuees.
Maui Humane Society
Many animals have been displaced or injured by the fires, and Maui Humane Society is working to care for them all.
World Central Kitchen
World Central Kitchen is providing meals to people in need by partnering with other local organizations. Their goal is to provide not only food, but a truly nourishing and comforting meal during a time of crisis by preparing fresh food for the community.
Hawaii Lions Foundation
Hawaii Lions Foundation is matching donations up to $25,000 to go toward disaster relief efforts.
Hawaii Chamber of Commerce Hawaii Business Relief Fund
Many Maui residents have lost not only their homes and loves ones, but their businesses, as well. Hawaii Chamber of Commerce Hawaii Business Relief Fund is collecting donations to help business owners start over.
Donate Supplies Locally
If you would like to donate specific supplies rather than making a financial donation, consider one of these organizations.
Maui Food Bank
If you would like to donate supplies to Maui Food Bank, consider items from the requested list:
Rice
Canned protein (pop-top cans)
Canned meals (pop-top cans)
Snacks
Protein and breakfast bars
Peanut butter
Jelly
Baby food
Diapers
Feminine hygiene products
Toothbrush and toothpaste
Toilet paper
Paper towels
Other toiletries
You may deliver donations to one of the following locations:
Central Maui: King's Cathedral (777 Maui Veterans Highway)
South Maui: Calvary Chapel South Maui (320 Ohukai Rd., Ste. 420)
Hawaii Restaurants Association: Kokua for Lahaina Initiative
If you are on Oahu, consider supporting evacuees staying in Honolulu by donations supplies to the Hawaii Restaurants Association: Kokua for Lahaina Initiative. The following items are requested:
Food and drink
First aid items
Clothing
Phones
Hygiene
Bedding
Cash
Shelter
Donations may be dropped off at 41-902 Olu'olu Street in Waimanalo.
Surfjack Hotel
The Surfjack Hotel & Swim Club in Waikiki is collecting shelf-stable food, clothing and other supplies, which can be dropped off at the front desk. The following donation items are most needed:
Cases of canned goods
Dry food
Gently used clothing
Blankets
Towels
New soap
Toothpaste and toothbrushes
Maui AIDS Foundation
If you do not live on the islands but would like to make a donation of supplies rather than funds, consider the Amazon Wishlist from the Maui AIDS Foundation. Items ordered from the list will be delivered to them and distributed to those in shelters.
Avoiding Scams
Unfortunately, there are scammers ready to take advantage of this situation. A quick word from the Attorney General's office regarding scams released on Wednesday reads: "We are already seeing various fundraising efforts being promoted on social media platforms and online. In moments of crisis, we all must be extra vigilant against bad actors who try to take advantage of people's goodwill."
Tips to make sure your donations support real relief efforts:
Donate to well-known charities
Verify charitable status on a government website such as https://apps.irs.gov/app/eos/
Be aware of common scammer tactics like rushing you to donate, making vague claims about how funds will be used, or requesting donations in the form of cash or gift card
Coming together as a nationwide community, we can support our Maui neighbors in need right now.