HOW TO PRICE AND MARKET A LUXURY HAWAIIAN HOME
Posted by Annette Mejia on Thursday, October 10, 2019 at 7:24 PM
By Annette Mejia / October 10, 2019
Comment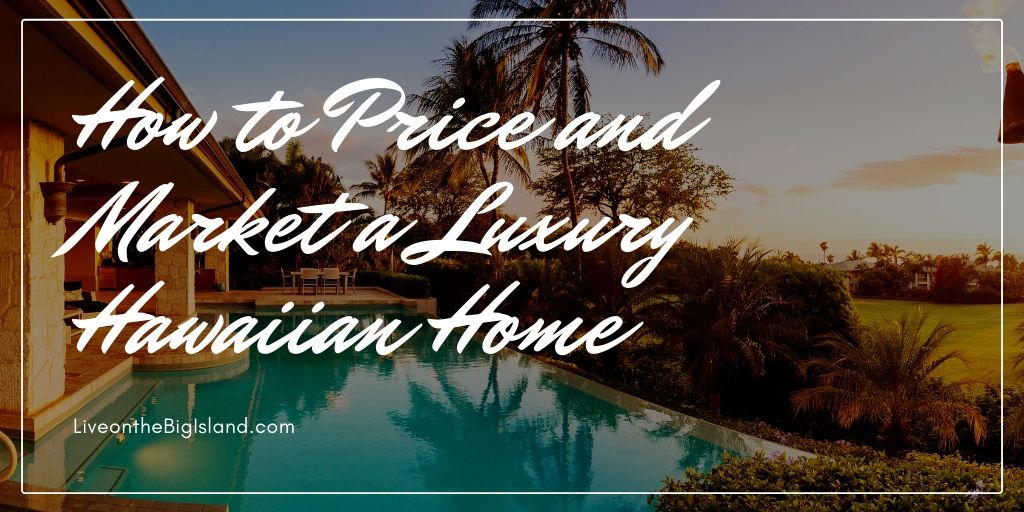 How to Price and Market a Luxury Hawaiian Home – The real estate market is completely different when you're selling a luxury home. Luxury typically refers to properties that are higher end and that offer more luxury amenities such as swimming pools, large layouts, extra rooms, or something that the majority of homes just don't have. Pricing the home does take experience and the more money a house is listed for, the narrower the buyer pool becomes. According to Realtor.com, luxury home sales increased 25% over the last year so while the luxury market might be a tough market, there's definitely a lot of action going on. If you're looking to sell your luxury Hawaiian home, here are some tips to keep in mind when pricing and discussing price with your real estate agent.
#1. Use a professional stager.
If you're going to sell a luxury home you have to present at home in the highest form of possible and that means professional photographs that showcase the home in its absolute best light. Buyers will see images first and since most of us are shopping online these days, those first impressions need to be dynamic. Buyers want to see potential in any type of property without being overwhelmed by your own personal style. Staging your home and photographing it beautifully is really the first and the best key to getting your home sold to the right buyer.
#2. Finding a balance in the price.
Setting the correct price is one of the trickiest parts of selling a luxury home. If you price it too high, the property may sit on the market far too long but price it too low, and you might be getting less for the property than it's actually worth. It's important to look at comparable sales around the area, what has sold within the last 6 to 8 months, and what's currently on the market. When you're talking custom luxury homes, it can be difficult to find comparable properties, but by focusing on what makes your home stand out, it will add value to whatever price you give it.
Related: What to know about e-closings
#3. Consider skipping public open houses.
In today's society, virtual tours are a big rage but you also want to cultivate an air of exclusivity when selling a luxury home. Consider ditching the open house in favor of appointment-only viewings. Buyers feel that seeing the property is a privilege and you can avoid wasting your time preparing for an open house that would likely only draw non-buyers.
#4. Develop a brand for your home.
By building a distinct identity you can have a focused message that guides all of your marketing materials. Your agent may decide on an individual logo for your home that can be used on relevant material and content or come up with a slogan that fits the distinction of your home. From there, it can overlay the marketing strategy moving forward.
#5. Market wisely.
As an expert in Big Island luxury homes, home on the MLS is not going to cut it. Luxury buyers are not looking for homes in the standard way so we need to focus our marketing efforts on where buyers are coming from. We will invest in top-quality printed materials, professional staging, high-quality photography, and I have the avenues and strategies to market to the exact buyers for your home. Because I have the experience and the knowledge of how to market to Big Island homebuyers, I can get your home in front of more buyers than the average agent.
If you're ready to list, stage, and market your Big Island luxury home, contact me at any time. I'd love to get started showing you how we would sell, how we would market, and what your home could sell for.