HOW TO PROTECT YOURSELF FROM SCAMS DURING THE PANDEMIC
Posted by Annette Mejia on Thursday, May 28, 2020 at 7:11 PM
By Annette Mejia / May 28, 2020
Comment
Criminals can seize every opportunity to exploit bad situations and this COVID pandemic is no exception. There are multiple financial scams surrounding the pandemic and according to the IRS, they may continue. In the last several months, their criminal investigation division has seen a variety of economic impact payment scams and other financial schemes taking advantage of taxpayers.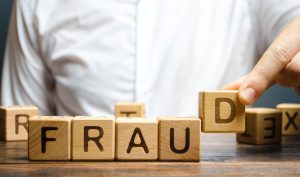 The IRS is specifically targeting those who participate in these related scams intentionally abusing the programs intended to help millions of Americans. Many of these scams are related to fake in-home test kits, offers to sell fake cures, vaccines, and advice on unproven treatments.
Other scams involve selling large quantities of medical supplies through fake shops and websites where scammers failed to deliver promised supplies after receiving the funds. Many have set up fake charities soliciting donations from groups and individuals affected by the virus. There are multiple phishing schemes utilizing emails, texts, and links. Most play on the fear and unknown of the virus and things related to the virus such as the stimulus payments.
Criminals will take advantage of any loophole they can find, especially at our most vulnerable times. So how can you protect yourself from scams during the pandemic?
Door to door utility scams.
This is a popular one but utility companies, phone companies, and other utility companies will not, door to door asking for payments upfront. Many are actually providing deferred payments for their customers, however, you'll need to verify that bike making a call. No utility company will ever come to the door to demand payment otherwise your service will be shut off. Immediately report them to the IRS or to your utility company.
Charitable donations.
Hundreds, possibly even thousands of fake charitable donation sites have been set up and so far they have taken over $50 million from coronavirus related accounts. Many of these are not legitimate at all so make sure you give to a local community, one that you trust, or that have a proven track record. Your local food bank, local businesses, and those directly connected with people in need are typically the best.
Any business the calls and demands money right away over the phone.
Mortgage companies, credit card companies, utility companies, and anyone you pay on a regular basis is likely to send written notification first before calling. Many will not call at all so anyone that calls you demanding payment to avoid penalty needs to be verified. Never give money over the phone and if you ever have someone that's calling demanding money, take their name, number, and then call the legitimate company and ask if this is correct information. If it is not, report this scam it to the IRS.
Anyone who receives unsolicited emails or social media tends to gather the information that appeared to be either from the IRS or a similar organization should forward it to [email protected] . Americans are encouraged not to engage potential scammers online or over the phone ever.
It's harder than ever to determine who to believe and who is trustworthy but by knowing the facts and what your companies will not do, can better prepare you for situations that may come up. Again, unless you are delinquent in payments and sent to collections, chances are your mortgage company or utility company will never contact you by phone. Never click on links in an email and always verify any communication directly with the company before proceeding.