MOST AMERICANS AGREE NOW IS THE TIME TO SELL
Posted by Annette Mejia on Saturday, August 1, 2020 at 4:51 PM
By Annette Mejia / August 1, 2020
Comment
A recent article by Fannie Mae's Home Purchase Sentiment Index stated that Americans feel that now is a good time to sell their home. This survey conducts research on the housing market, buying and selling a home, job expectations, and personal finances. It really gives a general sense of how optimistic Americans are about their finances and the housing market. It certainly has been a tumultuous time right now with severe drop-offs in April, regulations and rules coming and going throughout the spring and summer season. But overall, the real estate market in many places across the country have been positive. Buyers and sellers are still coming together and homes are still for sale.
In July, the index fell 2.3 points due to a drop in the number of respondents who said it was a good time to buy a house. However, there has been an uptick in those who said it was a good time to sell. The survey reported that the net share of those who say it's a good time to sell was up 4% typically do to home price expectations.
"Supply constraints appeared to be applying upward pressure to consumers home price expectations, which in turn has contributed to both a sharp reversal in optimism about whether it's a good time to buy a home and further improvement in home selling sentiment." Doug Duncan, Fannie Mae's senior vice president and chief economist.
It's interesting to look at the graph: provided by Fannie Mae Home Purchase Sentiment Index July 2020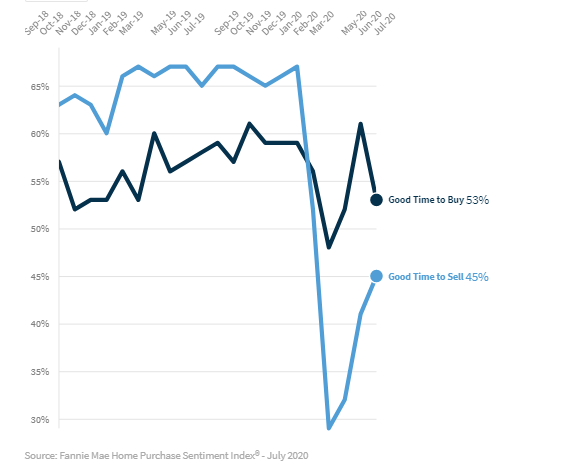 Those in favor of homebuying were up in June with a severe drop in July whereas homes on the market dropped at the end of February is significantly, to a healthy rebound in July. We all know that when this pandemic began back in March there were concerns about how it would affect the housing market. But even though things dropped in March and April, most of the housing market rebounded just as quickly. Homebuyers who delayed their plans figured out safer ways to view homes and resumed their search.
Many homebuyers were quick to get back in the market but home sellers didn't rebound quite as fast. It could be because they were leery about having so many people come through their home and the number of newly listed homes for sale resulted in more competition among buyers. In many markets across the country this increased bidding wars but as recently as the last three weeks, new listings grew past their pre-pandemic baseline for the first time since the coronavirus hit.
Seller confidence has reached an important milestone as it appears the more sellers are back in the housing market.
In mortgage news, mortgage rate drop stirs up a loan demand as more and more people are refinancing or taking advantage of the historically low rates. Refinance application reached its highest level since May and home purchase activity continued with a 2% increase over last month and was up about 22% compared to the same week a year ago (August).
All this to say, if you need to buy or sell, it's still a great time. Rates are low, sellers are getting back into the market so there's more inventory for buyers, and sellers are still seeing some competition, which means higher asking prices are holding steady.