Preparing for a Move to Hawaii
Posted by Annette Mejia on Wednesday, December 14, 2022 at 8:20:24 AM
By Annette Mejia / December 14, 2022
Comment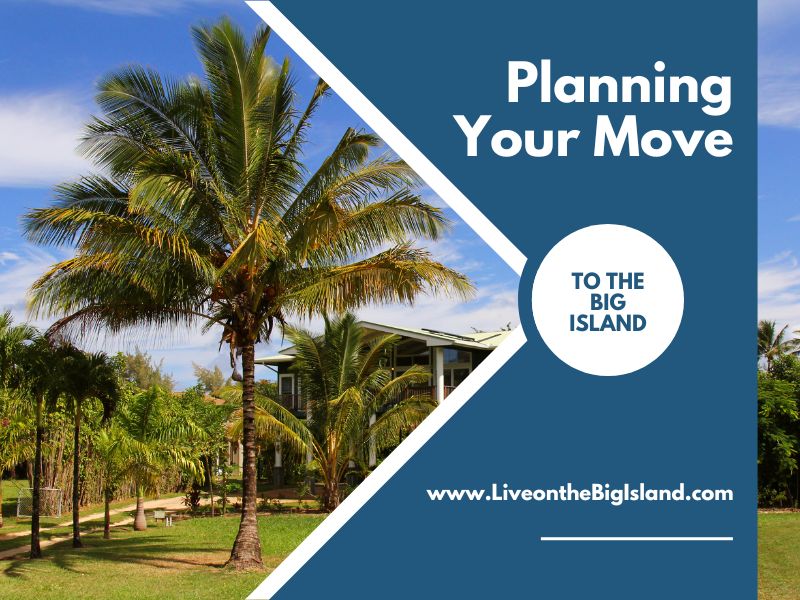 Moving is always a complex process, with lots of moving pieces and details to consider. A move to Hawaii can be even more complicated, so we have put together some tips to help your move to the Big Island go as smoothly as possible.
If you are still searching for that perfect home on the Big Island, we can help you find it. Contact us any time to learn more.
Before you make the move, check out these ideas to put together a plan.
Compare Shipping to Replacing
Moving to Hawaii means shipping nearly all of your belongings, beside those you can pack in your suitcase. This is a unique process that will differ greatly from mainland moving, where you may even be able to drive your own truck to the new destination.
As you prepare to move, consider the pros and cons of shipping everything versus replacing it when you arrive. Some items will be impossible to replace, based on sentimental value or expense, while others might be more trouble to ship than they are worth.
Shipping furniture can be quite costly, so depending on how much you love your current furniture and how it might fit in your new home, it may benefit you to sell it and buy new when you get to the island.
Similarly, many people choose not to ship their vehicles to Hawaii, but instead sell them on the mainland and replace them when they arrive. If you choose to ship your vehicle, keep in mind that you will have a tentative delivery date that is subject to change, and will likely need to budget for a rental car in the meantime.
Moving to Hawaii with Pets
If you have pets you plan to move with, make sure you plan ahead for unique regulations Hawaii has for bringing animals onto the island. During a mainland move, chances are you didn't have to complete any paperwork or register your animals before moving to a new city or state, but Hawaii is a little different.
For dogs in particular, keep these things in mind:
You will need to provide proof of an updated rabies vaccination, at least 90 days before moving and at least two doses. Be prepared with documentation from your vet showing the product name, the lot or serial number, and the lot expiration.
If you move with a service dog, microchipping is required.
All dogs must pass an OIE-FAVN test before entering Hawaii, which is an antibody count to verify the effectiveness of the rabies vaccination. Hawaii is vigilant about avoiding the introduction of rabies to the islands.
Within 14 days of entering the island, you will need to prove that your dog has been treated with Fipronil, or an equivalent, which is a long-acting product to kill ticks and protect the islands.
Service dogs need to schedule an appointment in the Airport Animal Quarantine Holding Facility upon arrival at the airport in order to be allowed to enter the island.
Unique Timelines for Moving to an Island
Remember that when you move to Hawaii, your timeline may be different than a mainland move. Wait times for your belongings that have been shipped will likely be much longer, and you should be prepared to live without some of these things for a while.
Between the items you pack in your suitcases and the things you buy upon arrival, be prepared with your basic necessities for a month or so. You may also want to book a fully equipped vacation rental to live in while you wait for your shipping container to arrive.
To learn more about moving to Hawaii and finding your ideal home here, contact us any time!