Should I Buy a Fixer Upper on the Big Island?
Posted by Annette Mejia on Wednesday, April 26, 2023 at 10:14:06 AM
By Annette Mejia / April 26, 2023
Comment
It's no secret that Hawaii is a competitive real estate market, with a higher price range than many other markets and a steady demand for the inherently limited supply of homes on the islands. For people looking for homes for sale in Hawaii, finding something move-in ready is sometimes a challenge. If you can't find a turn-key property that fits your price range and criteria, you might consider investing in a fixer upper instead.
If you are looking for a fixer upper in Hawaii, keep reading for some things to keep in mind. To learn more about finding houses for sale in Hawaii that might work for you, contact us any time!
As you look at potential properties that need some work, ask these questions to make sure you invest in a property you won't regret.
What type of fixer upper is it?
Not all fixer uppers are created equal. As you tour potential homes, determine whether they are simply in need of cosmetic updating or need more thorough renovation. There's a big difference between an unattractive house and a total gut job.
What is my timeline?
If you are working on a tight timeline without much flexibility, taking on a fixer upper is a risky decision. Home renovations are notorious for taking longer than expected, and this can be even more true on an island. Delays in shipments of materials, weather delays, unforeseen damage that is discovered along the way, and other factors can interfere with your timeline.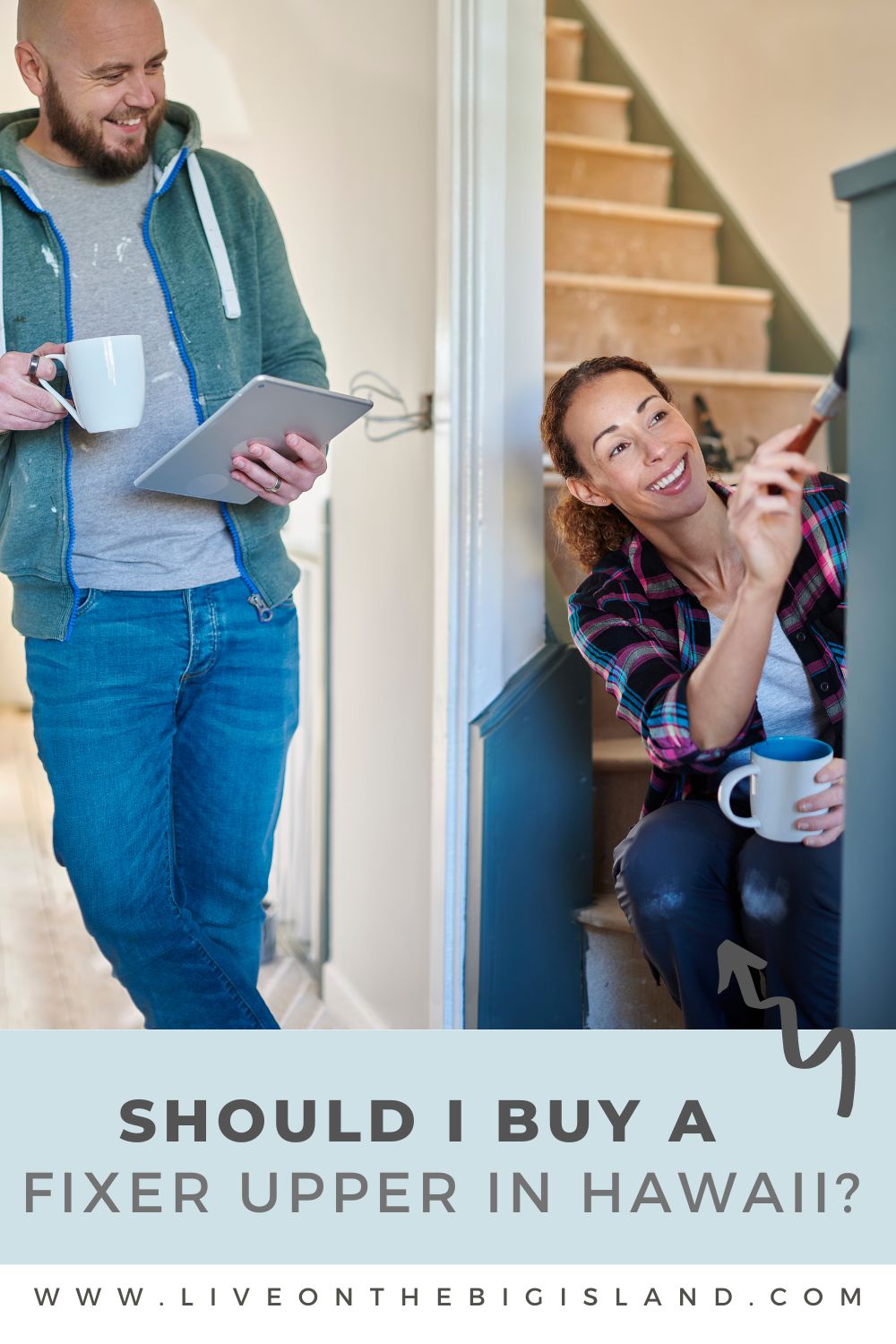 For some people, living in the home during the renovation process is a solution. If you need to be able to move in by a certain date, but are comfortable moving in to a work in progress, look for a home that will be habitable in time to move in, even if it likely will not be completed.
How much work can I realistically do myself?
Home improvement TV shows, blogs, and influencers have inspired many homeowners to take on the work of renovating a home. This can be a great way to maximize your investment, investing your own sweat and effort rather than dollars to hire a team of professionals.
If you have never undertaken a home improvement project of this magnitude before, make sure you are prepared and have a realistic perspective. Ask yourself:
What kind of relevant experience do I have?
How will I know when it's time to bring in an expert?
How much time do I have to put in to these projects after work or on the weekends?
If I change my mind after getting into the project, do I have the budget to hire a professional at that point?
You might ask a few local contractors for quotes and their perspective on the project to help decide which parts of the renovation you should take on as a DIY project.
What would an expert say about this property?
When you have found a fixer upper that seems like a good fit, be sure to pay careful attention to the home inspection report. This is your best opportunity to discover any areas in the home that will need to be repaired or replaced in addition to what you have noticed during your walkthrough.
In some cases, you may be able to negotiate a lower sales price, a credit, or a repair to be completed before closing on the house if the report reveals a major issue with the home. Don't rush this process and allow it to inform your decision.
We would love to help you find your home in Hawaii, whether it's a turn-key dream property or a fixer upper. Contact us any time to get started.