THE BIG ISLAND NEW RESTRICTIONS CONCERNING COVID-19
Posted by Annette Mejia on Saturday, August 15, 2020 at 6:20 PM
By Annette Mejia / August 15, 2020
Comment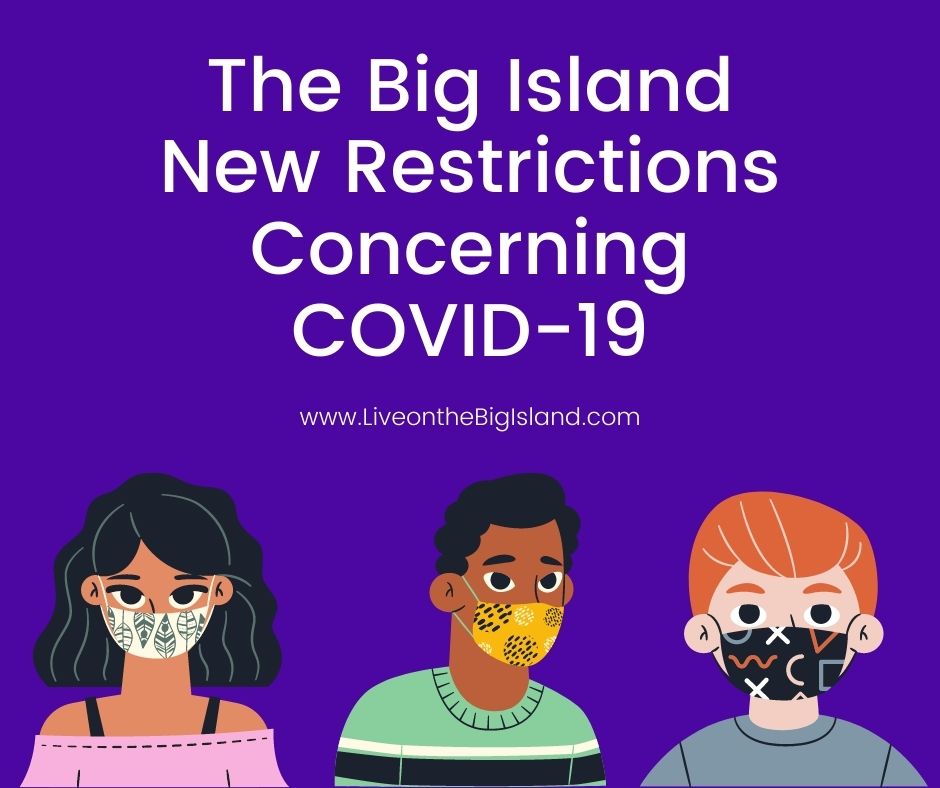 There are new travel and basic lifestyle restrictions and mandates currently underway for the Big Islands. The most recent was posted at the end of August stating certain mandates and requirements for dining, recreation, shopping, and travel.
Currently, any indoor and outdoor social gatherings of any type are prohibited, and most retail businesses, real estate firms, auto dealerships, golf courses, gyms, salons, bars, and clubs must be closed. All travel including not limited to foot, bicycle, scooter, motorcycle, automobile, or public transport is prohibited except for central travel and activities and all beaches, city, and state parks will remain closed until September 9.
However, this stay at home and work from home order was from August 27 through September 9. Other traveler information was updated on September 1. All travelers are encouraged to use the state's safe travel programs before arriving on the Big Island. Travelers that show their safe travels QR code to the state screener and will be processed quicker. This safe travel program will collect traveler's required health and travel information and it must be entered within 24 hours of departure.
For inter-Island travel, requirements and restrictions are based on different counties. Hawaii, Maui, and Hawaii County all have slightly varying requirements. See restrictions below if you plan on any interisland travel.
Travelers arriving from the mainland and international locations must use the safe travel program effective September 1. Right now, our governor has extended this COBIT 19 emergency. Through September 30. This requires a 14-day mandatory quarantine requirement for out-of-state travelers.
What is the "State Safe Travel Program"?
This program is a digital form that will allow travelers to provide their required health and travel information before they arrive at the airport. It's also keeping those that need to be in quarantine at a safe distance from others. This simplifies the previous paper-based process. There are two types of forms, one for interisland travel and one for transpacific travel to and from the state of Hawaii. The new form will provide the State Department of Health access to the mandatory health information that passengers need to provide in order to monitor and protect public health. Travelers are encouraged to enter their information and trip details in advance of their flight and once it's entered within 24 hours upon departure, travelers will receive a QR code via email. This can be accessed on their mobile device or printed and will be scanned by the airport screener upon arrival.
In addition to the safe travel program, everyone is required to wear a mask just about everywhere you go. So, let's stay safe, do the best we can, and hopefully this will all be over soon.