UPDATE ON THE DINING SCENE IN WEST HAWAI?I
Posted by Annette Mejia on Sunday, August 30, 2020 at 4:45 PM
By Annette Mejia / August 30, 2020
Comment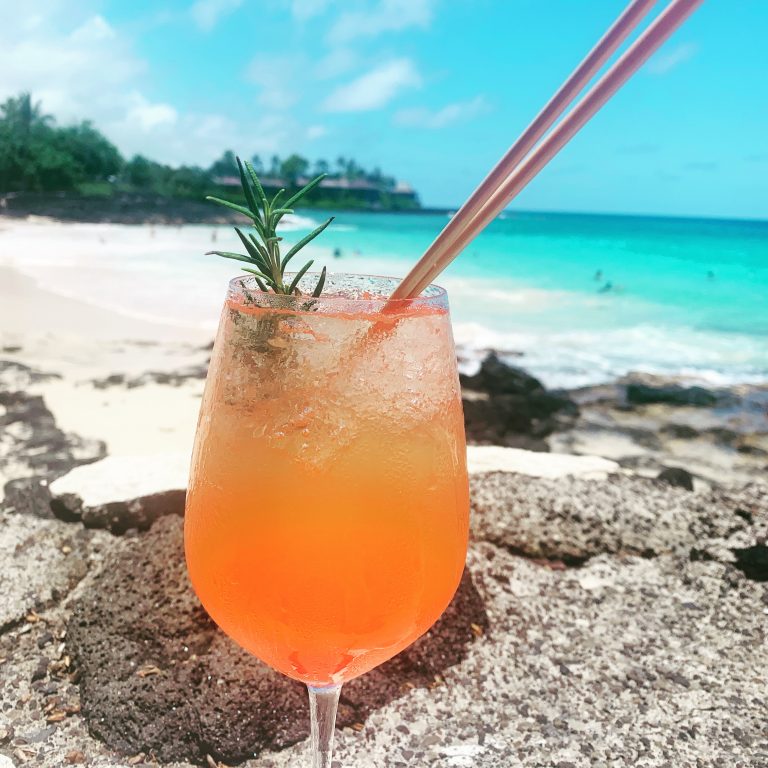 Have you been wondering which Kailua Kona restaurants and kitchens are open and where your favorite bartender is mixing up your favorite mai tai? The gradual lifting of life in lockdown has brought much needed relief to Hawaiʻi residents who were fortunate enough to be able to enjoy walking on beaches, but not able to enjoy their favorite restaurants earlier this spring.
Many island residents are dipping their toes in the post-lockdown waters amid a restaurant and shopping scene which looks a bit different than it did prior to the mandatory shutdown. Due to the dynamic nature of the COVID-19 pandemic, some dining establishments were forced to close their doors permanently, while others are still hoping to reopen at some point. Also, during this time, construction on some big projects featuring new restaurants have moved forward toward completion.
Here are some updates on what is happening in the culinary world of West Hawaiʻi. It's important to note that since resorts are still closed, restaurants on resort properties remain closed, as well. Also, because of ever changing elements in this pandemic climate, updated information quickly becomes outdated information. Always call an establishment ahead of time to confirm hours of operation.
Niumalu Marketplace
Kailua-Kona's newest shopping center, Niumalu Marketplace is located in the heart of West Hawaii, in the Kailua-Kona trade area, surrounded by four major roads: Palani Road / Kuakini Highway / Henry Street / Queen Kaahumanu Highway. The MarketPlace is slated to be finished in October with businesses scheduled to open in mid-December. The center will host a 63,000 sq foot Safeway and up to 25-30 spaces for local and national restaurants and stores. "We're super excited about the center and feel it's going to be the new shopping hub for Kailua-Kona," said Thomas Reiter President of Commercial Real Estate Development Enterprises (CREDE). "It's going to be a big compliment to the city itself, both for the locals and the tourists to enjoy. We have signed leases with some small local shops and restaurants, however we are not going to announce them publicly until the leases are executed."
Kona Brewery and The Brewery Block
Kona's new 30,000-square-foot brewery and canning operation is getting ready to open its new location later this year, which will feature a new tasting room located just down the street from the original Kona Brewery & Pub. A Kona town favorite, Kona Brew Pub is welcoming some new restaurant neighbors to the Brewery Block this year as well.
Willie's Hot Chicken is the most recent new restaurant to open its doors in the Brewery Block, and is serving up some spicy bird to Kona residents and visitors. This Nashville delicacy became famous in the 1930's through the local legend of a scorned woman seeking revenge. She served her unfaithful lover a chicken dish covered in spicy cayenne pepper as punishment, but instead of hurting him, he loved it! So much for getting even. Other restaurants opening new locations in the Brewery Block are Sushi Shiono and Umeke's.
Closings
Unfortunately, some island restaurants have had to permanently close their doors due to the economic losses of the pandemic. West Hawaii said good-bye to local favorites, Holuakoa Café in Holualoa, Bongo Ben's on Alii Drive, and Sushi Rock in Hawi.
Other restaurants in West Hawaii that are temporarily closed are Huggo's, Huggo's on the Rocks, Kai (which was slated to open March in the old Bubba Gump's location), Sam Choy's Kai Lanai, and Mi's. Splashers is open, but has limited days of operation, as does Papa Kona's at Waterfront Row and Bianelli's at Keauhou Shopping Center.
Food Trucks and Street Vendors
An innovative food truck vendor, Louise Ungerman, co-owner of Pizza Rovers, started a Friday Food Truck Circle at the HPM building parking lot (across from Target) from 4:00-7 pm which is growing! You can grab some fantastic gourmet pizza, BBQ meats and sides from Ohana Q, cheesecakes and desserts, baklava, Thai food and a growing list of vendors. She has also just announced another Food Truck Circle for Saturday evenings from 4-7 pm at the Lowe's parking lot of off Henry Street.
Also, Holualoa has a growing food vendor scene going on each Friday afternoon to evening including a floral vendor, SunDog Bakery and Hualalai BBQ. While there, cruise the art galleries and support them, too!
Residents and visitors who are ready to dine out again are encouraged to support our local restaurants, but continue to abide by recommended safety precautions such as mask-wearing and hand-washing. Share the aloha by keeping yourself and those around you as safe and healthy as possible.
As a long time resident of Kailua Kona, I know the local businesses help make the lifestyle of West Hawaii vibrant and exciting. We will be writing more about the new businesses being opened and encourage everyone to keep supporting local.