Captain Cook Real Estate
About Captain Cook
Captain Cook Hawaii is a community in South Kona within the major division of Kealakekua. The actual Captain Cook area stretches several miles but is technically a Census-designated place and not an actual city.
However, there is a post office in the area and got its name not only from the famous Captain Cook but also for the island-style Captain Cook coffee shop offering amazing views and excellent coffee overlooking 26 miles of gorgeous Hawaii coastline. Captain Cook is also just 10-15 minutes from shopping and restaurants via the new by-pass road to Alii Drive headed toward Kona.
Captain Cook
September 26, 2023
More About Captain Cook
Nestled on the west side of the island, it's bordered to the north by Kealakekua and to the south by Honaunau-Napoopoo. The major highway route 11 passes directly to the community heading south around the tip of the island and north to Kailua-Kona. Along this windy stretch of road are plantations, estates, darling little bed and breakfasts, beautiful homes, and wonderful overlooks, as well as your traditional fruit stands along the road.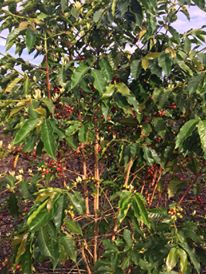 Best Coffee on the Island
The majority of Captain Cook sits between 800 foot and 2000 foot elevation and doesn't stretch all the way to the ocean. This is why it makes such a great coffee-growing region. The Law the Ridge soil in the Captain Cook area is prized for some of the best coffee growing land in all of the island. The area sits on top of an ancient fault that created the famous Kealakekua Bay. Up until about the 1960s, most of the Captain Cook area was part of the Kealakekua Ranch founded by English immigrant Henry Nicholas Greenwell.
There are approximately 3800 residents throughout the Captain Cook area. It is situated on active volcanoes and contains large sections of land that are considered part of the lava flow hazard zone 2. However, much of this area has been rebuilt over the years but along Highway 11 you'll pass through several large stretches of jagged lava from flows decades prior.
Schools
Captain Cook is part of the Hawaii Department of Education. The small but quaint Konawaena Elementary School is found on the west side of Highway 11, about halfway through Captain Cook. Konawaena Middle School serves students in grades 6 to 8 living in Captain Cook, and high school students can attend Konawaena High School. They are all a part of the Konawaena Complex, which serves the communities of Captain Cook and nearby areas.
If you are looking for a private school, there are a few options on the Big Island. Located in nearby Kealakekua, Kona Pacific Public Charter School offers a unique educational approach based on Waldorf principles.
Historical Significance of Captain Cook
Captain Cook is named after the famous British explorer Captain James Cook, who arrived in the Hawaiian Islands in 1778 during his third voyage to the Pacific. This is the same Captain Cook who is known for making the first European contact with the Hawaiian Islands. The community of Captain Cook is situated near the location where Captain Cook met his unfortunate end in 1779 during a skirmish with native Hawaiians.
The Captain Cook Monument
If you're up for a hike, you'll have to check out the Captain Cook Monument by winding down one of the steepest trails on the islands. This is not for the faint of heart so be sure to pack water and some good hiking boots but once you get down there, the snorkeling is some of the best on the island. The Captain Cook Monument honors the British Captain James Cook, who is thought to be the first Westerner to set sights on the Hawaiian Islands back in 1778 sits at the end of this unique hike. Unfortunately, the Monument is also the location of his death. Today, snorkelers, hikers, kayakers and boaters all can enjoy the peaceful and tranquil spot, which is only accessible via foot or boat.
Things to Do in Captain Cook
Captain Cook is prized as being one of the Big Island's hidden gems. There's so much to see, explore, and taste such as our famous Kaaloa's Super J's known for authentic Hawaiian food and some fantastic 'loco moco'. But you don't have to take our word for it, it's the number 30 spot on Yelp's top 100 places to eat so the word has gotten out.
Captain Cook has a laid-back and welcoming community. It offers a mix of local residents and visitors who come to enjoy the area's natural beauty and historical significance, and has a small town feel with minimal businesses within its boundaries. The nearby town of Kealakekua provides essential amenities, including grocery stores, restaurants, and shops.
Kealakekua Bay, located near Captain Cook, is a significant historical and natural site. It was here that Captain Cook made his final landing on the Big Island. The bay is known for its crystal-clear waters, vibrant coral reefs, and abundant marine life, making it a popular spot for snorkeling, scuba diving, and kayaking.
Captain Cook is the perfect place to land on the Big Island if you want to enjoy some peace and quiet in a natural setting and don't mind a short drive into town for your essentials. If your dream to live in Hawaii includes a tranquil lifestyle of enjoying the outdoor paradise, you will love living in Captain Cook.
Captain Cook Real Estate
Because Captain Cook is so large and covers so much land, you can find beautiful little homes starting around $450,000, lots to build, or gorgeous plantations for over $1 million. If you're looking to rent out a property, there are many vacation homes, properties, and plantations that are ideal for vacationers or long-term rentals. Most homes in Captain Cook boast sensational views! Captain Cook features some of the best land on the Big Island, offering opportunities to have plenty of space for your lanai, garden, and more.
Feel free to browse available listings below or simply contact my office at any time for personal and showing of any home for sale in Captain Cook.